Drawing inspiration from family photos, the young Arrernte and Kalkadoon artist channels her history and activism through captivating landscapes and hopeful portraits.
When we step inside artist Thea Anamara Perkins's studio – in the industrial Clothing Store building in Redfern, Sydney – what strikes us most is how bare the space seems. It's not awash with colour or artworks; there is a handful of paintings Perkins is still working on and a selection of photographs that she uses as inspiration. But that's it – except the speakers in two corners of the room.
The Arrernte and Kalkadoon painter says she prefers to work with limited distractions. "Music being the exception," she tells Broadsheet. "Because of what each work represents, I need to be in that space. What's here is what's in my mental space."
Perkins draws inspiration for her work from her memories, particularly the stories of her community. The young painter is part of a family of Aboriginal activists and creative people; her great-grandmother was Arrernte Elder Hetty Perkins, her grandfather was activist Charles Perkins, her mother is art curator Hetti Perkins, her aunt is acclaimed film director Rachel Perkins and actress Madeleine Madden is her sister.
"My family is full of support and pride, and this has always been instilled in me," she says. "More importantly, I've learnt to continue their generosity of sharing culture with others."
Perkins's studio is in the heart of Redfern, an important suburb in Sydney's Aboriginal history. She grew up in Sydney, on Gadigal land, and her art communicates her strong ties to family in both the inner-city suburb and Alice Springs. Her portraits have been selected for the Archibald Prize exhibitions three times, which is what she's best known for, but her landscapes also examine a powerful connection to people and place.
"Landscape, to me, is always tied to people. In some ways, it is also a portrait. Country is populated by people, and people who were there before, even in super built-up places," she says.
From Perkins's light-filled studio, we can see Sydney's yellow trains chugging by. "I love the rhythmic train noises," she tells us. The room is small, found on the upper level of the 1913-built Clothing Store, which was once part of the Eveleigh Railway Workshops – where her grandfather Charles "Chicka" Madden worked for over 50 years. Her grandfather was the subject of her Archibald Prize 2020 entry, Poppy Chicka, which is now part of the Art Gallery of NSW's permanent collection.
There are two tables set up against opposite walls; one has paint tubes, several palettes of bright colours and different-sized paintbrushes. On the other is a pile of landscape photos and enlarged family snaps. One of the pics is young Thea wearing a hot-pink and purple bathing suit at Bondi Beach in the 2000s. It's an example of "glimmer" – a term coined by Perkins as the opposite of a "trigger", a gentle way to interact with history.
"I find that [opposition] fascinating," she says. "Glimmer [is] instances of belonging and connectivity. This is what I know about my community, so it's pushing against the misinformation and misrepresentation [of Aboriginal people] that's out there and recognising my community and all of our strengths."
A large easel between the two long tables holds the biggest canvas Perkins has ever worked on. It's for her exhibition Eights Views of the Telegraph Station, which ran at N.Smith Gallery in Sydney in November.
"I really like the intimacy of small-scale paintings – you can also achieve this control when painting: the composition, colour value, and all of those kinds of technical considerations," she says. "But I think it's wonderful to learn to feel confident when working at [a larger] scale. I think, especially as a female artist, confidence is a really important thing to build and have."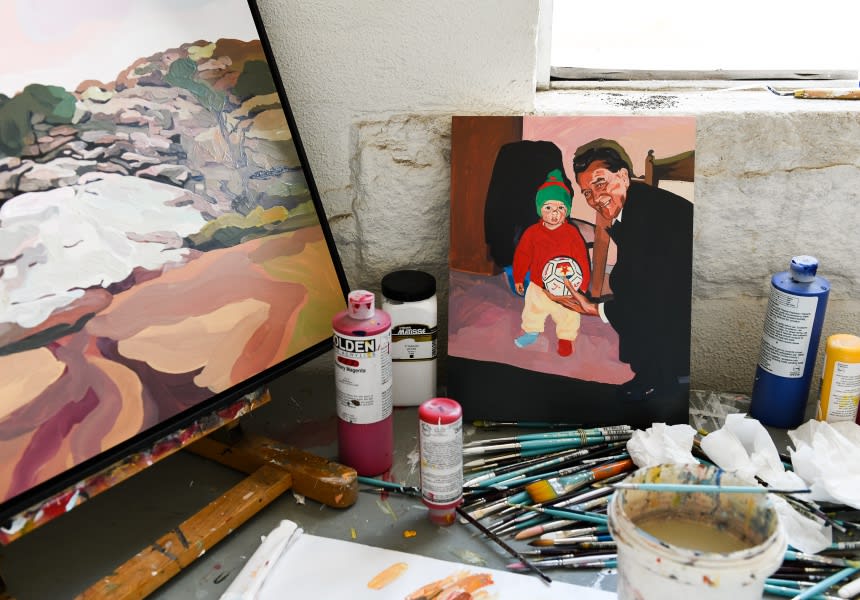 The exhibition is a series of paintings of the Old Telegraph Station in Alice Springs, or "The Bungalow" as it's known locally. It's where Perkins's grandfather was born and where he rests. "It was also once the home of the half-caste in the early 1900s – it's a point where we lost language and association. Whenever I'm in Alice Springs my family and I spend time there."
Compulsion and intuition are often the starting point for any of Perkins's artworks. "A connection to place and people is something I'm exploring more, but it's always this process of digging and digging. I think it's almost a clinical approach to art-making and listening to what's being given to you," she says.
Perkins won the Australia Council's Dreaming Award 2020, which recognises First Nations artists aged 18 to 30. Perkins, now 29, says painting came to her at a young age. "I drew a lot and it's always been a natural mode of expression for me. I'm always thinking about what's happening in the world, especially through the lens of being an Aboriginal woman."
She recently worked at the Tangentyere Artists Aboriginal Art Centre in the Northern Territory and it had her thinking: "People were painting the same thing over and over again. I think, especially in contemporary art, it's always about the next idea. But why? There's importance in revisiting things, especially this place in particular," she says, referring to the Old Telegraph Station. "This really was a lockdown project, so the idea of yearning for Country added to that compulsion to paint."